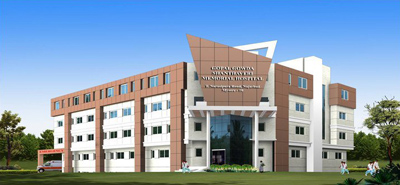 The Story of Gopala Gowda Shanthaveri Memorial Hospital
It was the dream of Mrs. Rekha Murthy B.Sc. (Hom. Sc.) and Dr. H.C. Vishnumurthy, MS to establish a hospital at Mysore focusing mainly on the rural population as well as the surrounding city. It became a reality on August of 1978, in the style of, and under the name, "Mini Hospital". The small, 14 bed and outpatient facility was situated in a rented building in Nazarbad, Mysore, beginning its service.
The "Mini Hospital" started in a rented building with 10 beds, inpatient, outpatient, X- ray, pathological laboratory and an operation theatre. With the available space, man power and gadgets, it served the public in its own humble way. In 1980, the management felt the need to expand its scope of activity and decided locate to a new facility. The present location situated in "Chamundi – Vihar" was acquired during 1981 and Gopala Gowda Shanthaveri Memorial Hospital established in 1984. Mr. Abdul Nazir Sab, then Minister for Rural development and Panchayat Raj, Government of Karnataka, along with Mr. George Fernandes, member of parliament and Ex. Defence Minister of India attended the dedication. The Honorable Speaker and Minister D.B. Chandre Gowda, presiding over the function.
Initially, it was equipped with 60 beds with a small out patient department, operation theatre, radiology and laboratory facilities. Our commitment was to serve humanity and provide quality health care. The hospital was expanded in May 1994 as Private Ltd., a company in the name and style of Nazarbad Medical Services Pvt., Ltd. and was registered as per company rules during 1990 in order to overcome the difficulty of getting financial aid for the project. The expanded new block was declared open by the Honorable Deputy Chief Minister and present Governor of Maharashtra, Mr. S.M. Krishna and Sri. Y.K. Puttasome Gowda, then Honorable Chairman of K.P.S.C. The new wing established a separate outpatient block, diagnostic block and another two operating theaters and inpatient facilities. At present the hospital has 253 beds and serves the rural public along with surrounding people of Mysore city.